Approaching 60.000 views on YouTube and Vimeo, Tapani´s little satire on the art of fly casting is still causing massive controversy online.
Especially on YouTube, where haters and lovers leave their comments on a regular basis. In fact, some viewers were getting so heated up by this little video that we had to start moderating the comments!
Some of my favourite comments:
His haul is shite.

wallace500001
"But there are situations." – hahhahahhhahhahhaha 🙂

harisfishing
Stupid cast…no, there are not situations. Idiots!

Fecious1
So you manically slap the water with 20′ of line, lose contact with it, and slop a slack line forward, instead of an easy back/forward cast? Why?…If it's intended to make fun of fly fishing, it's just lame. Fine material for short attention span Youtuber's, I suppose. Don't perfect a craft…"Post" and cackle.

PremiseTester
@PremiseTester: lighten up u miserable twat

favernoogon
lol, would like Jason Borger to watch this, and see what he say.

shigehochosa
Love the fact so many people don't seem to understand that this is you guys havin a laugh. Awesome videos guys, keep it up…we want more!!

COUNTRYSPORTSUPPLIES
Those casts are the most ridicoulous casts I have ever seen!

JustinBieberGayLove
this is a failed variant of speycasting with a one handed rod…

you are stupid and you wasted my time

dekoning97
You all need to pull your fingers out of your assholes and take a chill pill. This video is obviously lighthearted, and if you fail to see that, you must be a horrible person to go fish with. Christ, what ever happened to personal style and taste? Have a laugh, dry out your waders, and stop being so damn negative and critical.

TheVancouverMan
f@king funny guys ! 😀

w33dp0w3r
You´re an idiot.

Bottomrigged
i tried this casting method and ended up travelling back in time 2000 years.

johnkay33
It is hard to pick a winner, but the final comment by "johnkay33" really stands out.
Here´s a previously unseen photo from the original Shadow Cast sessions: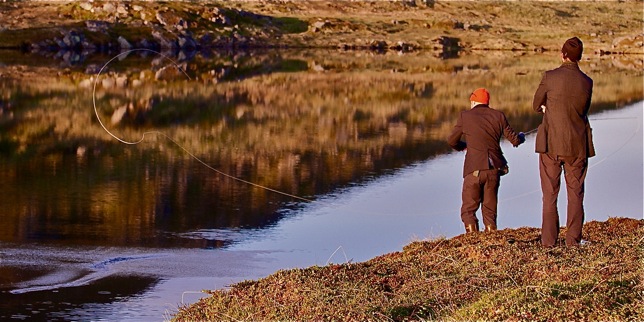 And here´s the video again:
If you´re still up for more Shadow Cast stuff, click here to see Jason Borger´s thorough analysis of the J&FF Shadow Cast, British SC-discussions, and much, much more.

Later –
H.

PS! If you wanna see the video on YouTube (there are new, entertaining comments coming all the time), click here.