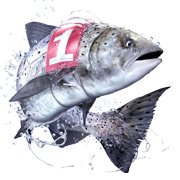 Now this is a really creative way to fight for salmon: a sport event for the fish. We wanted to spread the word, so read on:
Fishrun – first fish sport event at the mighty river Kymi in Finland has begun! Formula1 World Champion Kimi Räikkönen among supporting celebrities!
Project FishRun aims to increase awareness about the near distinct stocks of native salmon, and to involve companies in funding the vital research and restoration programs on salmon rivers.
The project is based on a scientific research program, in which radio transmitters are mounted on the fish to find out where and how they move during their migration up to the river to spawn. Project FishRun views the this as a sports event. Companies can sponsor and name their own Grand Prix start of six salmon racing gallantly upstream – and people get a new sport to cheer, play or bet for.
Project FishRun events provide entertaining way to learn about problems of the fishstocks, and to raise wider attention about the subject. People can cheer their favorite fish and companies can help to save the salmon from distinction while using the Grand Prix races for their own marketing and PR.
One of the GP's is a celebrity invitational race where Finland's top celebs compete with their own salmon each racing up the river. This ensures maximal exposure in Finnish press and TV. The celebrity race is organized by Finland's most famous fly fisherman and all time top grossing film actor (Lapland Odyssey, Frozen Land etc) Jasper Pääkkönen who actively speaks and writes about the depleting salmon and trout stocks and the politics behind managing Finland's fisheries. Other celebrities include Finland's #1 selling artist and songwriter Chisu, the hosts of prime time talk show Mikko & Heikki, actor and comedian Kari Hietalahti and last but certainly not least Formula 1 world champion Kimi Räikkönen. "I'm proud to say every celebrity I asked to take part in the race said yes without a moment of hesitation and with great enthusiasm. There is a lot of concern for our migrating fish stocks and I'm happy to see Kimi, Chisu and the others supporting FishRun GP."
The first FishRun event has now started on Kymijoki, Finland. Support our mission, help us to save the fish and heal the rivers!
You can support the the research program in collecting the funds it needs by:
– Downloading FishRun iPhone application (in finnish only – sorry) from App Store
– Sharing the news in Facebook and other social medias and speaking for the fish
– Asking your employer or your favorite brand to take part in our event.