About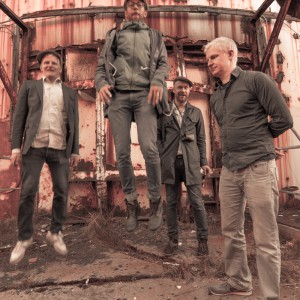 The story of Jazz & Fly Fishing is a pretty unlikely story. It all started with one man´s frustration: On his tours in the Nordic countries with various jazz groups, award winning Finnish jazz pianist and passionate fly fisherman Joona Toivanen often found himself staring longingly at the many beautiful fishing waters by the road. In 2008, he decided to put together a group of similar-minded people: a professional jazz band who would´t mind stopping the tour bus to try a few casts with the fly rod.
Finding the right personel turned out to be a challenge, as the potential band members would have to meet the following criteria: 1. Established professional jazz musician 2. Passionate fly fisherman 3. Decent human being. Toivanen found these in Norwegian guitar player Håvard Stubø, Swedish drummer Fredrik Hamrå, and his own brother, bass player Tapani Toivanen. By coincidence, Petri Luukkainen, a Finnish filmmaker/producer, got word about the project and decided to do a documentary about the band´s 2009 tour in northern Scandinavia.
The 2009 tour was a kind of baptism by fire for us when it comes to filmmaking. With two cameramen and a soundguy following us like a shadow, we toured Finland, Sweden and Norway, playing concerts on everything from big festivals to desolate arctic hilltops, and fishing some of the finest waters in Scandinavia. The documentary about this tour, Season One: One Second of Magic and our debut album Slow Walking Water can be ordered from our shop.
After the tour, we bought some cheapo cameras and started experimenting with filming for ourselves. Nothing fancy, we were just having fun making small edits for our blog and Vimeo/YouTube. Much to our surprise, many of these videos became quite popular, and I guess you could say that we have gained an international audience for our videos by now. It´s a hell of a lot of fun! Nowadays, we spend a lot of time shooting, editing and recording soundtracks for videos. So what was supposed to be a once-in-a-lifetime tour has more or less turned into a lifestyle for us.
Selected reviews
Jazz & Fly Fishing´s critic acclaimed debut album Slow Walking Water:
"On Slow Walking Water, the quartet takes on twelve original tunes with energy and enthusiasm, forging a solid amalgam out of a wide array of influences. The album was recorded on analog tape in one of Sweden´s finest studios, Studio Epidemin in Gothenburg, and mixed by Mikko Raita at Studio Kekkonen in Helsinki, creating a warm and wonderful sound that suits the band´s music perfectly. Slow Walking Water is fresh, sparkling jazz music of the highest quality, swaying all the way from the lyrical to the ecstatic, everything executed with an acute Nordic sensibility."
Jazz & Fly Fishing´s critic acclaimed debut album Slow Walking Water:
"On Slow Walking Water, the quartet takes on twelve original tunes with energy and enthusiasm, forging a solid amalgam out of a wide array of influences. The album was recorded on analog tape in one of Sweden´s finest studios, Studio Epidemin in Gothenburg, and mixed by Mikko Raita at Studio Kekkonen in Helsinki, creating a warm and wonderful sound that suits the band´s music perfectly. Slow Walking Water is fresh, sparkling jazz music of the highest quality, swaying all the way from the lyrical to the ecstatic, everything executed with an acute Nordic sensibility."
Jazz & Fly Fishing´s critic acclaimed debut album Slow Walking Water: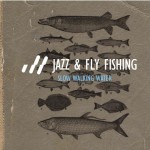 "On Slow Walking Water, the quartet takes on twelve original tunes with energy and enthusiasm, forging a solid amalgam out of a wide array of influences. The album was recorded on analog tape in one of Sweden´s finest studios, Studio Epidemin in Gothenburg, and mixed by Mikko Raita at Studio Kekkonen in Helsinki, creating a warm and wonderful sound that suits the band´s music perfectly. Slow Walking Water is fresh, sparkling jazz music of the highest quality, swaying all the way from the lyrical to the ecstatic, everything executed with an acute Nordic sensibility."